My first year in the Senate wraps up: here's what we did
We just wrapped up the legislative session - my first year in the California State Senate representing you. I'm proud to report that we tackled some major issues for California. From funding road repair and public transportation projects, to the extension of California's cutting edge cap and trade program to fight climate change, to the historic agreement to pass an affordable housing funding and streamlining package, the Legislature did not shy away from tackling California's major problems.
I was proud to work on each of these issues, and in particular, to be deeply involved in our efforts to increase funding for public transportation and to craft a powerful housing package to put California on the road to a more sustainable future. My Senate Bill 35, which streamlines the production of housing in cities that are not creating their fair share of housing, is a key part of the housing package. The package also includes two funding bills (Senate Bills 2 and 3), which together will generate billions for affordable housing investment.
In addition to these efforts, I authored a number of bills that the Legislature passed and that are now sitting on Governor Brown's desk awaiting (we hope!) his signature, including bills to protect LGBT and HIV-positive people, to expand recycling, to increase access to food among poor people, and to reform our criminal justice system. A list is below.
Now that we are in recess, I'll be spending more time in the district this fall, working hard to meet with constituents and local leaders, while also preparing legislation for next year. As always, thank you for entrusting me to represent you in the California Senate.
Sincerely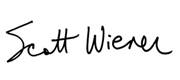 Scott Wiener
Senator
Here are the bills I authored that passed the Legislature and are on the Governor's desk awaiting his action:
SB 35 - Streamlining the Approval of Housing
High housing costs are strangling California's economy and environment, and undermining our health and quality of life. We're -last the point where communities can choose whether to create housing or whether to opt out. SB 35 creates a streamlined approval process for housing at all income levels in cities that are not meeting their state-mandated housing goals.
SB 219 - LGBT Seniors Bill of Rights for Long-Term Care Facilities
Our LGBT seniors built the modern LGBT community and led the fight for so many of the rights our community takes for granted today. SB 219 protects LGBT seniors from discrimination in long-term care facilities, such as a facility refusing to use a resident's preferred name or pronoun, forcing a transgender resident to dress as their birth gender, or denying admission to a long-term care facility based on sexual orientation or gender identity.
SB 239 - Modernizing HIV Criminalization Laws
California's HIV criminal laws, enacted in the 1980s and '90s at a time of fear and ignorance about HIV and its transmission, treat HIV differently than all other serious communicable diseases, which stigmatizes people living with HIV and discourages people from getting tested and into treatment. SB 239 amends these laws to make them consistent with laws involving other serious communicable diseases. This bill, by treating HIV as a health problem instead of a criminal problem, will help reduce HIV infections.
SB 278 & 282 - Strengthening CalFresh (food stamps)
Federal law provides food aid for people with incomes below the Federal Poverty Level through the Supplemental Nutrition Assistance Program (SNAP), known as CalFresh in California. SB 278 and SB 282 will strengthen CalFresh's food access and employment and training programs for low-income residents, particularly the elderly, disabled, and homeless, while also protecting recipients from any gross negligence by government agencies.
SB 384 - Reforming California's Ineffective and Unfair Sex Offender Registry
Our bill to reform California's broken sex offender registry was written by law enforcement, will treat people more fairly, and will make our community safer. California is one of only four states that requires all sex offenders - ranging from sexually violent predators to minor offenders who harmed no one - to register for life. The result is a bloated registry, with one out of every 400 Californias appearing on the registry. The registry is so huge that law enforcement cannot effectively use it to monitor high-risk offenders and keep people safe. Instead law enforcement is forced to monitor and shuffle paperwork for a huge number of low-level offenders who present no risk to anyone. SB 384 will create a tiered system, with serious offenders continuing to be registered for life, while other offenders will be able to petition (but not be guaranteed) to be removed from the registry after either 20 or 10 years. SB 384 was endorsed by California's District Attorneys, Police Chiefs, and rape crisis centers.
SB 458 - Fixing California's Broken Recycling Laws
Various cities, including San Francisco, have seen mass closures of recycling centers - creating major problems for small grocery stores - and hindering our ability to meet our ambitious recycling and waste reduction goals. SB 458 authorizes CalRecycle to create five mobile recycling pilot programs, which will qualify as full recycling centers under California law, thus providing more flexibility and relieving surrounding small grocery stores of the onerous obligation of having to accept recycling for redemption.
SB 658 - Jury Reform
Fair and impartial juries are at the heart of the American legal system. SB 658 will prevent unreasonable and arbitrary restrictions during jury selection by requiring judges to consider specific factors when setting time limits and the types of questions, which will help attorneys better identify bias and make for better juries, more fair trials, and a stronger justice system.
Here are a few of the bills I co-authored:
SB 1 - Funding road repair and public transportation (with Senator Jim Beall)
To meet our climate goals, reduce the gridlock on our roads and highways, and grow our economy, California can no longer afford to ignore our crumbling and limited public transportation infrastructure. SB 1 will raise the gas tax to pay for road repair and public transportation projects, so we can start investing in our transportation future. SB 1 was signed by the Governor earlier this year.
SB 149 - Presidential Tax Transparency (with Senator Mike McGuire)
The American people deserve honesty and transparency from anyone who wishes to serve as their President. For decades presidential candidates have released their tax returns, but this last election we saw a break from that tradition of basic accountability. SB 149 would require that anyone who wants to appear on the California primary ballot must release their tax returns.
SB 179 - The Gender Recognition Act (with Senator Toni Atkins)
We need to make it easier for transgender and gender non-conforming people to live their lives as who they are, not who society says they're supposed to be. In particular, our LGBT youth need to know that we support them and want them to succeed as their authentic selves. SB 179 would allow residents to be identified by a gender marker other than "F" or "M" on their driver's license and birth certificates. It would also make it easier for residents to receive a gender change from state agencies and the courts.