Help Team Wiener Get Food to the North Bay
We're all stunned by the catastrophe in the North Bay. Sonoma, Napa, Mendocino, Yuba, Solano, and other counties are in desperate condition. People are dying, people are missing, and thousands of homes have been obliterated. Our brave firefighters and first responders are doing everything they can to attack the fires and save lives and property.
We need to stand up and help our neighbors in need, and I have an easy way you can do so.
Between now and Tuesday, if you drop off bags or boxes of non-perishable food that is "ready to eat" and doesn't require cooking, my staff and I will get that food to the North Bay - specifically, to the Redwood Empire Food Bank in Sonoma County. This food bank badly needs food donations and also financial donations so that it can continue to deliver food to evacuation centers.
You can drop off food at any of the locations listed below at the end of this message through Tuesday, and my office will retrieve them. On Wednesday, my staff and I will bring the food up to Sonoma County. Thank you to Chariot and the Teamsters for driving us and the food and helping us get this done. Thanks as well to the community and labor organizations that are stepping up to receive these food donations at their facilities.
You can also bring bags of food to my district office (455 Golden Gate Suite 14800) during business hours.
These are desperate times in the North Bay, and once the fires are finally extinguished, we will have much work to do helping our neighbors recover. For now, as our firefighters and first responders do their life-saving work, we need to do our part.
I hope you can help. Thank you so much in advance.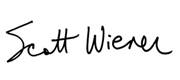 Scott Wiener
Senator
P.S. If you have any questions or want to help our food drive succeed in other ways, please contact Victor Ruiz-Cornejo at victor.ruiz-cornejo@sen.ca.gov.
Locations for food drop-off:
SF LGBT Center
1800 Market Street (@ Octavia)
Drop off Hours and Instructions:
The collection boxes will be in the 1st floor lobby area.
Monday-Thursday: 9AM - 8 PM.
Friday: 9AM - 5PM
Saturday: 10AM - 5PM
Sunday: CLOSED

SF YIMBY
1390 Market St, Suite 200 (@ Hayes)
Drop off Hours and Instructions:
From lobby take elevator to second floor (mezzanine) and you will see a sign
For Sunday drop off, someone will greet you in lobby
Monday-Friday: 9AM - 6PM
Saturday: CLOSED
Sunday: Noon - 4PM

San Francisco Association of Realtors
301 Grove St (@ Franklin)
Drop off Hours and Instructions:
Please go to second floor and mention you're there to donate to food drive
Monday-Friday: 9AM - 5PM

IBEW Local 6
55 Fillmore St. # 2 (@Hermann)
Drop off Hours and Instruction:
Monday-Friday: 7:30AM - 4:30PM

Sheet Metal Workers Local 104
1939 Market St (@ Guerrero)
Drop off Hours and Instructions:
Go to second floor. Please make sure to speak to the *Sheet Metal Workers*
Monday-Friday: 7:30AM - 5PM

Women's Building
3543 18th St #8 (@ Lapidge)
Drop off Hours and Instruction:
Go to reception and you will see a sign. *Starting to accept donations on Friday*
Every day except Tuesday: 9AM - 10PM
Tuesday 9 am - 8:30 pm

Laborers International Union Local 261
3271 18th St (@ Shotwell)
Drop off Hours and Instruction:
Monday-Friday 6:30AM - 4:30PM
North County Fire Authority
10 Wembley Dr, Daly City CA
Drop off Hours and Instructions:
Please call 650.991.8138 if having any trouble getting in.
Monday-Friday: 8AM - 5PM

Chinese Newcomers Service Center
777 Stockton St # 104 (@ Sacramento)
Drop off Hours and Instructions:
Monday-Friday: 9AM - 4PM

The Marsh
1062 Valencia St. (@ 22nd)
Drop off Hours and Instructions:
Monday: 3PM - 7PM