Dear Friend,
I hope your 2018 is off to a great start! 2017 was a challenging year for our country, but it was also an exciting year in the California Legislature, as we had a tremendously busy and productive session. We moved forward aggressive legislation to defend the values we hold dear in our great state, including passing landmark housing, environmental, and transportation measures, all while defending and expanding the rights of our communities.
This year we will push boldly ahead and continue to lead. I look forward to another productive session, and I will fight to protect and expand rights for all communities and help to move our great state forward. As always, it is an honor to serve you as your State Senator.
At your service,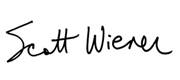 Scott Wiener
Senator
My office has been working hard to prepare our legislation for this year. We have already introduced bills to tackle our housing crisis by allowing for more housing near public transportation, establish net neutrality in California, officially recognize Lunar New Year in California, incentivize the purchase of fresh produce by low income Californians, allow cities to choose to extend nightlife to 4AM, fight the vehicle break-in epidemic we are experiencing throughout our region, stem the rising rates of youth homelessness, help prevent wrongful convictions of innocent people by strengthening eyewitness ID standards, and most recently, to support lactation in the workplace for working mothers.
I am proud of the legislation we are working on, and in the coming weeks, I'll be introducing additional progressive bills. If you are interested in learning more about the specifics of legislation I have introduced this year, please visit my website.
Upcoming Events and Opportunities
Celebrate the Year of the Dog with Senator Scott Wiener, State Board of Equalization Member Fiona
Ma, and Assemblymembers David Chiu and Phil Ting:
Thursday, February 8th
2:00PM-4:00PM
Great Hall, Ronald M. George State Office Complex
455 Golden Gate Avenue, San Francisco CA 94102
Join us to celebrate the Year of the Dog. We will have free snacks, tea, and live entertainment.
Free and open to the public.
Please RSVP by emailing Francis Zhang at francis.zhang@sen.ca.gov or call us at 415.557.1300

Town Hall to Meet Your State Senator Scott Wiener:
Saturday, February 3rd
12:00PM-2:00PM
Community Room, Taraval Police Station
2345 24th Avenue, San Francisco CA 94116
Learn about the 2018 California legislative agenda, ask questions, and share your priorities. Refreshments will be provided. Free and open to the public.
Space is limited. Please RSVP here or call us at 415.557.1300
Social Equity Tree Planting Grant:
Greenlining is excited to partner with California ReLeaf to offer the
Social Equity Tree Planting Grant. Grants of up to $75,000 are available for urban tree planting projects, and 75% of funds are targeted to projects located in disadvantaged communities.
Grant Amount: $10,000 - $75,000
Eligible Applicants: California incorporated non-profit organizations, community-based groups with a fiscal sponsor
Examples of Eligible Projects: planting street trees and increasing tree canopy cover, creating accessible job opportunities via urban trees, planting leafy trees in gardens etc.
Application Deadline: February 28, 2018
Read through the grant overview (in English and Spanish) to see if this is a good fit for you, and apply today!
Jeanette Oliver
Jeanette Oliver has been a community leader for the Diamond Heights neighborhood for 31 years, holding the role of Manager of the Diamond Heights Shopping Center, but doing so much more. She has been a staple of the Diamond Heights Community Association, serving as its Treasurer. Jeanette also helped to found Resilient Diamond Heights, which engages in neighborhood emergency planning.
Jeanette has also been a beneficial force for those in need in her community. She is known to have an open door to those that need help and has been described as "an informal social worker," referring people to the appropriate help when necessary. Upon the shooting death of UPS Driver Mike Lefiti last year, Jeanette organized grief counselors to come to Mike's place of work and his family, as well as finding ways to make the memory of him lasting. Jeanette is stepping down from her role as Manager of the Diamond Heights Shopping Center, but we know she will continue to be an active and integral part of our communities.
Senators Scott Wiener and Dr. Richard Pan and Assemblymembers David Chiu, and Phil Ting announcing legislation to recognize Lunar New Year in California
Honoring Jo Wong for assuming the role of President for 80-20
Poster making party before the San Francisco Women's March
Supporting Planned Parenthood before the San Francisco Women's March
Senator Scott Wiener, Julia Parish (Legal Aid at Work), Dr Emily Murase (San Francisco Department on the Status of Women), Supervisor Katy Tang, and Assemblymember David Chiu holding a press conference to announce SB 937 to support lactation accommodations in the workplace
Meeting with University of California Santa Barbara students to discuss the state of the budget