Dear Friend,
February is a special month for us to celebrate the beauty, strength, and resilience of our African-American community. I was honored to take part in various events to honor our black leaders including having the opportunity for my office to help plan and host the Black History Month Opening Ceremony at the State Building in San Francisco. In addition, in the Senate we passed Senate Resolution 70 to recognize the month of February as Black History Month, and to encourage all citizens to recognize and celebrate the talents, contributions, and achievements of African-Americans.
February also marks an important time for our Asian community with the celebration of Lunar New Year. Our office, along with Assemblymembers David Chiu and Phil Ting, and Board of Equalization Member Fiona Ma hosted a celebration where hundreds came out to enjoy food, speeches, and entertainment. Over the weekend I also had the honor of participating in the Lunar New Year Parade, which is an amazing demonstration of San Francisco's cultural diversity. I know how important this time is for San Francisco and for California which is why this year I decided to author SB 892 along with my Senate colleague Dr. Richard Pan, to officially designate Lunar New Year as a day of special significance in California.
It was a true pleasure participating in all of these events that celebrate the wonderful diversity found in my district. As always, thank you for the honor of representing you.
Sincerely,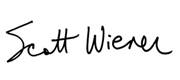 Scott Wiener
Senator
California faces tremendous challenges around homelessness, mental health, and addiction on our streets. To help homeless people transition off our streets and into housing, as well as to prevent people from becoming homeless in the first place, we need to pursue a range of policies, including investing in innovative mental health and addiction solutions.
I am authoring several pieces of legislation to help, including SB 918 (The Homeless Youth Act of 2018) to help the state get much more focused on homeless youth, SB 1004 to prioritize early mental health intervention and prevention programs for teenagers and college students, and SB 1045 to help our most vulnerable residents by expanding public conservatorships for chronically homeless people with severe mental illness or drug addiction.
If you are interested in learning more about the specifics of legislation I have introduced this year, please visit my website.
Upcoming Events and Opportunities
Senator Wiener's Office and Joseph Abbati Host, "NITE LIFE" An Exhibit by Bay Area Artists:
Friday April 13th
5:00PM-7:30PM
Office of Senator Scott Wiener
455 Golden Gate Avenue, Suite 14800
San Francisco CA 94102
This year Senator Wiener is Authoring SB 905 to allow cities to extend nightlife past 2AM. Please join us for a reception featuring Bay Area artists, and their take on "NITE LIFE" at the office of
Senator Scott Wiener curated by Joseph Abbati.
Please be aware that because this is an after-hours event every guest must register at the link provided in advance.
Mercedez Munro
Mercedez Munro stepped down as reigning Empress of the San Francisco Imperial Council this weekend, after an impressive and highly successful year.
San Francisco's Plus Size Supermodel, Mercedez Munro is the first National Title Holder to come out of the state of California. A former Miss Gay San Francisco, Mercedez Munro went on to represent California in the Miss Gay United States 2013 pageant - and won! Mercedez sees herself as an "old school" female impersonator who has done everything possible to perfect her craft as an entertainer, an artist, a House Mother, a pillar in the community, an aspiring recording artist, and a champion of many causes.
Mercedez has accumulated multiple titles across the country. Being elected the 52nd Empress of San Francisco is her greatest accomplishment to date. Mercedez is fiercely loyal, and dedicated to her house, the community and San Francisco. In addition to being the third African American to be elected to the post of Empress in 52 years, Mercedez has remained dedicated to the positive representation of People of Color, and advocating for organizations such as the Transgender Law Center, BlackLivesMatter, Pomeroy, the Asylum Project, Reaf, Lyric and more specifically, Meals on Wheels.
Mercedez Munro was honored by the SF Pride Board with the Heritage of Pride Creativity Award in 2016, the first of its kind which allowed her to ride as a Grand Marshall in the SF Pride parade.
Senator Wiener welcomes crowd to the Lunar New Year Celebration at the State building in San Francisco
Senator Scott Wiener, Board of Equalization Member Fiona Ma, and Assemblymembers David Chiu and Phil Ting pose with performers at the Lunar New Year Celebration at the State Building in San Francisco
Senator Wiener honors Brent Nicholson Earle founder of the Rainbow Flag Memorial Run
Senator Wiener hosts a town hall at the Taraval Police Station
Senator Wiener poses with Young Professionals in Transportation
Senator Wiener waits to address the Silicon Valley Leadership Group with Senator Jim Beall, Assemblymember David Chiu, and Oakland Mayor Libby Schaaf
Senator Wiener with young constituents cutting the ribbon for the reopening of the Randall Museum
Senator Wiener with Daly City Mayor Juslyn Manalo at grand opening of XFINITY store in Daly City
Senator Wiener poses with graduates of the Treasure Island Job Corps after their graduation ceremony