Dear Friend,
This month during Women's History Month and on International Women's Day we had the opportunity to commemorate and celebrate many women that do the important work to strengthen our communities. In Sacramento, the legislature had the privilege of honoring women from all around California for their tremendous contributions to our State.
The Senate also made history by electing the first woman to serve as President pro Tempore of the California State Senate, Senator Toni Atkins. Senator Atkins is also the first openly LGBT person to serve in this role. I've had the great honor of working closely with Senator Atkins over the years and I know that she has the vision, wisdom, and tenacity to lead the California Senate. As we continue to push forward a progressive agenda that will improve the lives of Californians, meet the many needs of our state, and serve as a model for other states across this country, there is no one better equipped to lead us.
It was an incredible honor to be part of a tremendously successful Women's History Month this year, and I look forward to continuing to support strong women leaders every month of the year.
Sincerely,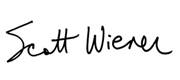 Scott Wiener
Senator
We may have had a wet March -- it even hailed at the Capitol -- but the drought is still very much a reality we will have to face as a State. Even after last week's storms, much of California is back in drought and the rest of the state is trending in a dry direction. California has a long term water shortage and our current water conservation efforts are not sustainable enough to ensure that our State has sufficient water for the future. As such, we need to continue to implement long-term water conservation policies and modernize our antiquated system, including an aggressive move toward more water recycling. That is why this year I am authoring SB 966: Expanding Water Recycling.
SB 966 will help create more local on-site water recycling programs by requiring that the State Water Resources Control Board ("State Water Board") issue comprehensive regulations, including health and safety standards, to help local jurisdictions develop these programs. "On-site" means that the water recycling occurs in individual buildings, as opposed to utility-scale water recycling. When I was on the Board of Supervisors, I authored legislation requiring these kinds of systems be installed in new, large developments. But that kind of legislation wouldn't have been possible if San Francisco didn't have an on-site water recycling program already in place. Every city in the country should have these programs, and the state needs to help make that happen.
California faces a tremendous challenge in conserving water and preparing for future droughts. SB 966 will help move us in the right direction. If you are interested in learning more about the specifics of legislation I have introduced this year, please visit my website.
Upcoming Events and Opportunities
Senator Wiener's Office and Joseph Abbati Host, "NITE LIFE" An Exhibit by Bay Area Artists:
Friday April 13th
5:00PM-7:30PM
Office of Senator Scott Wiener
455 Golden Gate Avenue, Suite 14800
San Francisco CA 94102
Please join us for a reception featuring Bay Area artists, and their take on "NITE LIFE" at the office of Senator Scott Wiener curated by Joseph Abbati.
Please RSVP by visiting https://nitelife.eventbrite.com
*Please be aware that because this is an after-hours event every guest must register at the link provided in advance.*
California Voter's Choice Act Education Event
Thursday April 19th
6:00PM-7:30PM
Doelger Senior Center
101 Lake Merced Boulevard
Daly City, CA 94105
Join Secretary of State Alex Padilla, Senator Scott Wiener, and Assemblymember Phil Ting in Daly City to learn about the changes to how San Mateo County will be voting in future elections. RSVP at https://www.eventbrite.com/e/california-voters-choice-act-education-event-tickets-44204556017
*Please be aware that this is a San Mateo County only event*
Support at Home Pilot Program
Support at Home is a new San Francisco pilot program, run by the Institute on Aging, that provides financial assistance to adults 18 and over making up to 100% Area Median Income ($80,700 for 1 person household) to afford home care and stay in the community. This is the first program of its kind and pays 50-80% of home care costs for help in the home or managing activities like grocery shopping and cooking. Anyone with a disability over age 18, or a senior, can qualify for support.
Anyone can make a referral for themselves or someone else by calling 415.750.4111 or submitting a referral here www.ioaging.org/supportathome
Dr. Veronica Hunnicutt
This month my office had the privilege of honoring Dr. Veronica Hunnicutt as Woman of the Year for Senate District 11. Veronica Hunnicutt, the Chief Executive Officer and Founder of the Hunnicutt Group, Inc.-- a community organization rooted in the empowerment and transformation of individuals within San Francisco and the surrounding Bay Area--has been an unyielding force for the betterment of others. For over 41 years, she served as the Dean at the Office of Student Affairs, as well as the Dean of the Southeast Campus at the City College of San Francisco. She further integrated herself within the campus community through her roles as both Chair of the African American Studies Department and as an Instructor in the English and Engineering Departments.
Dr. Hunnicutt also co-founded the African American Achievement Program (A.A.A.P.) and developed the original Afrocentric English materials used in A.A.A.P. classes at CCSF. She has created activities, courses, and programs for students of all ages in the course of her professional career. As Dean of the Southeast Campus, she lobbied for and was successful in getting entry-level biotechnology courses, leading to jobs in related businesses and organizations for community residents and other students.
After being appointed by Mayor George Moscone as a Commissioner on the Commission on the Status of Women, Dr. Hunnicutt's passion for women's advocacy became an integral part of her career. She helped in founding the Alliance for Girls, continues to be an active member of It's Time Network, a gender equality group, and is a legacy member of the Powerful Women International Connections (PWIC).
Dr. Hunnicutt's titles and achievements merely touch upon the impacts and influence she has had on the community. She is a beacon of inspiration for women, and is the embodiment of someone who is committed to serving others with humility, integrity, and compassion.
Senator Wiener speaking at the kick off for Arbor Day Tree Planting in the Richmond.
Senator Wiener with two homeless youth advocates. Senator Wiener was honored by Larkin Street Youth Services for his work to end youth homelessness.
Senator Wiener serving lunch at Self Help for the Elderly.
Senator Wiener with Dr. Veronica Hunnicutt and Assemblymember David Chiu celebrating Women of the Year.