Dear Friend,
At my town hall this month, I spoke with constituents about many issues including housing, transportation, homelessness, mental health, gun safety, and criminal justice reform. Your questions and concerns remind me why I do this work.

While the White House continuously attacks immigrants and the LGBTQ community and fails to take action after mass shootings in Gilroy and across the nation, in California we are working to protect transgender people in prison, increase immigrants' access to our democracy, reduce auto break-ins, make our streets safer for pedestrians and cyclists, and give counties more tools to help get individuals living our streets with severe mental illness and substance abuse issues into supportive housing. As we battle increasing homelessness and stagnant housing construction, I am fighting for better housing policies so that working families can afford to live in our state.

As we enter the final phase of this year's legislative session, I know that for all the progress made much remains to be done. I am committed to finishing this year strong and passing legislation to improve the lives of all Californians.
Sincerely,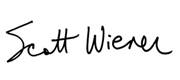 Scott Wiener
Senator
While session may not be over, I've already had a number of progressive bills signed by the Governor. These laws will help make California fairer, safer, and healthier. The Governor signed my bill protecting sex workers' health and safety by allowing them to legally carry condoms and come forward as victims of crimes without fearing they will be arrested. He also signed by bill to create domestic partnerships for opposite sex couples. My legislation to streamline the construction of navigation centers was approved as part of this year's Budget. This policy will make it easier to build homeless shelters that we need throughout our state so that more individuals facing homelessness have access to high quality housing and services. I also co-authored a new law requiring Presidential candidates to disclose their tax returns in order to appear on California primary ballots.
My other 16 bills are moving through the Assembly. This includes legislation to increase availability of PrEP and PEP, expand counties' capacity to care for severely addicted and mentally ill individuals living on our streets , and expand access to federal food assistance programs.
I am also a proud co-author of Assemblymember Kevin McCarty's proposed Constitutional amendment that would extend voting rights to parolees.

Senator Wiener celebrates the passage of SB 233 to expand sex worker protections with coalition members.

Senator Wiener addressing advocates of ACA 6, which would expand voting rights to citizens on parole.
These are only some of the bills that I'm proud to be working on in the Senate. You can read about the rest of my legislation here.

Town Hall with Senator Scott Wiener:
Date: Saturday, September 21, 2019
Time: 12 p.m. - 1:30 p.m.
Location:
Commodore Sloat Elementary
50 Darien Way, San Francisco, CA 94127
Please join me at a town hall to learn about the 2019 California legislative agenda, ask questions, and share your priorities. Refreshments will be provided.
To attend please RSVP by calling (415) 557-1300 or visiting bit.ly/townhallsept21.
Pumpkin Carving Contest and Legislative Updates with Senator Scott Wiener
Date: Saturday, October 19, 2019
Time: 1 p.m. - 4 p.m.
Location: Noe Valley Courts
4320 24th St, San Francisco, CA 94114
Please join me for a family Pumpkin Carving contest judged by local drag queens. Meet your neighbors, learn about the 2019-2020 legislative agenda, and ask questions. Food and drink will be provided.
To attend please RSVP by calling (415) 557-1300 or visiting bit.ly/wienerpumpkins.
California Requires Tax Trump Returns Under New Election Law (New York Times)
President Trump will not be eligible for California's primary ballot unless he releases his tax returns, under a new law signed by Gov. Gavin Newsom and co-authored by State Senator Scott Wiener.
California Just Passed a Landmark Law Protecting Sex Workers' Rights (Rolling Stone)
Gov. Gavin Newsom signed SB233, sponsored by state senator Scott Wiener, which contains a provision providing immunity for sex workers who report being the victims of abuse or domestic violence to the police and renders condoms inadmissible as evidence of the intent to do sex work.
New California Law Limits Neighbors' Ability to Appeal Navigation Centers (CBS)
Effective immediately in certain zoned areas, people in California cannot appeal a decision to build a homeless navigation center. "We have by far and away, the most unsheltered homeless people in California, compared to the other 49 states," said State Senator Scott Wiener. "This is an emergency; it's a humanitarian disaster."
Could Expanded Bar Hours Help Transform California's Nightlife Culture (Billboard)
SB 58, a bill proposed by Senator Scott Wiener, would extend the hours that 10 cities throughout California are authorized to serve alcohol from 2:00 to 4:00 am.
Advocates, Leaders Push to Keep Pedestrians, Bicyclists Safe in San Francisco (NBC)
Walk San Francisco and the San Francisco Bicycle Coalition initiated a rally in front of city hall. They were joined by Senator Scott Wiener who that "the city isn't making the progress that it needs to make quickly enough."
California On Track to be First State to Provide PrEP Without A Prescription (LGBTQ Nation)
California state senator Scott Weiner is leading a push to make pre-exposure prophylaxis (PrEP) and post-exposure prophylaxis (PEP) medications available over the counter without a prescription.
Complete Streets Bill Would Help California Bicycle Riders and Pedestrians (Cal StreetsBlog)
In California between 2007 and 2013, nearly 1.7 million people were injured in traffic incidents, including 95,758 while walking along or across the street. A new bill now moving through the legislature could fix it.
NeDina Brocks-Capla, founder and CEO of Sickle Cell Anemia Awareness San Francisco (SCAASF)
NeDina's whole life changed when her oldest son, Kareem Marcellas Jones was diagnosed with sickle cell disease (SCD). After her son passed away from the disease in 2013, she dedicated her life towards the treatment and eradication of SCD.
Her organization, SCAASF, aims to broaden public awareness, advocate for SCD patients, and establish a Sickle Cell Care & Resource Center in San Francisco. SCAASF worked with CA sickle cell organizations, UC Benioff/Children's Hospital, and experts in the field to put together a California Sickle Cell State Action Planning Initiative for sickle cell patients that would educate, equip, and empower Californians about SCD and other blood disorders. SCAASF is a collaborative partner with Cayenne Wellness conducting patient intake/assessment.
A native San Franciscan, NeDina is married to her husband, Edward, and has three children. In addition to her work at SCAASF, NeDina volunteers as an SF Court Appointed Special Advocate, does weekly tabling at the Zuckerberg SF General Hospital, while also attending health fairs at various churches in SF & Oakland. In her free time, she enjoys working out, riding her bike, and art.
Next month on September 14th, SCAASF will be hosting its 6th Annual KMJ SC Warrior Walk at the Bayview Opera House. I hope you'll join me in supporting NeDina and SCAASF for all the great work they're doing!
Senator Wiener rides Muni with supporters and staff
Senator Wiener attends BMAGIC's back-to-school backpack give away, which provides 2,000 Bayview Hunters Point kids the supplies to start the school year.
Senator Wiener speaks to 150 constituents at his August Town Hall at Rosa Parks Elementary School.
Senator Wiener joins advocates for pedestrian and biker street safety outside of City Hall.
Senator Wiener and Moses, a Berkeley 5th grader who came to Sacramento to advocate for pedestrian safety.
Senator Wiener and friends at the Mission Terrace Independence Day Parade.