Dear Friend,
This month marked the end of our 2019 legislative session. I am proud of all of the work we did this year to address the issues affecting Californians. I passed legislation to tackle some of the most vital issues facing communities, from criminal justice reform to HIV prevention to addressing homelessness. I also worked to address our state's mental health crisis by passing SB 40, which ensures our biggest cities can provide intensive care to those who need it most. As Trump attacks California on issues from housing to climate change, I am fighting back. I will continue to advocate for effective solutions to our hardest problems, solutions that are rooted in equity and stewardship - not grandstanding and bullying.
I am also excited to be back home in San Francisco. In September, San Franciscans joined me for a town hall at Commodore Sloat Elementary. It was a passionate and insightful discussion about important issues affecting our community, such as housing, healthcare, criminal justice reform, and public safety. I want to thank everyone who came. I am looking forward to connecting more at future town halls.
I am excited to spend these next few months in our community, hearing from neighbors and constituents like you. I hope to see you at some of our events this fall.
Sincerely,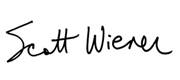 Scott Wiener
Senator
This legislative session we continued to advance a progressive policy agenda. I passed twelve bills. These include repealing unnecessary sentencing enhancements that feed mass incarceration, expanding access to HIV prevention medication like PrEP, and improving bicycle and pedestrian safety on California roadways.
Here is the full list of bills that I passed this session. The governor has already signed eight into law!
SB 34- The Dennis Peron and Brownie Mary Compassionate Care Act
Exempts compassionate care programs from paying state commercial cannabis taxes on donations of medical cannabis to seriously ill low-income people. Due to an oversight in Prop 64, non-profit groups that have served medical cannabis patients for decades are forced to pay taxes meant for businesses, shuttering needed community health programs.
SB 127- Creating Complete Streets
Requires Caltrans to make roads safer for people walking, bicycling, or using transit when repairing or upgrading state-owned roadways in urbanized areas.
SB 142- Requiring Lactation Accommodation for Working Mothers
Ensures working mothers have access to lactation facilities in the workplace and helps create more family-friendly work environments.
SB 268- Enhanced Transparency For Local Tax Measures
Expands transparency for local tax measures by requiring that key financial measures be included in the voter information guide.
The bills already signed by the Governor are:
(Passed through the Budget) Streamlined Navigation Center Permitting
Streamlines the production of high-quality homeless shelters to address the number of homeless individuals and families who do not have reliable access to shelter.
(Passed through the Budget) Increasing Access to Income Assistance
Ensures more individuals are able to access income assistance through the CalWORKs program in order to move more children out of poverty and help families meet basic needs. The bill does so by repealing the so-called "asset test," which forces low income people to choose between income assistance and saving money in order to climb out of poverty.
SB 30- Expanding Domestic Partnerships to Opposite Sex Couples
Expands domestic partnerships to all couples. Under current law domestic partnerships are available only to same sex couples and opposite sex couples age 62 and over.
SB 40- Updates to Senator Wiener's Conservatorship Law
Allows San Francisco, Los Angeles, and San Diego counties more flexibility in expanding the conservatorship system and modernizes its administration. This bill applies to those frequently committed to psychiatric or emergency care who also suffer from chronic homelessness, debilitating mental illness, and severe drug addiction.
SB 136- Repealing Unnecessary and Common One-Year Sentence Enhancements
Repeals a commonly used one-year sentence enhancement that is added to each prior prison or felony jail term that an individual has served.
SB 159- Increasing Access to HIV Prevention Medication
Authorizes pharmacists to furnish pre- and post- exposure prophylaxis (PrEP and PEP) without a physician prescription. Prohibits insurance companies from requiring prior authorizations in order to obtain PrEP coverage.
SB 233- Improving Sex Worker Health and Safety
Prohibits the arrest of people involved in sex work when they come forward as witnesses or victims of serious crimes. It also prohibits condoms from being used as probable cause for sex work arrests.
SB 271- SDI Benefits for Motion Picture and TV Production Workers
Increases access to unemployment insurance, state disability insurance, and paid family leave benefits for movie and TV production workers while travelling for work.
Art Show "We Belong-Pertenecemos" and Legislative Discussion
Please join me and Curator Joseph Abbati for, "We Belong-Pertenecemos," an art exhibit featuring the work of Latinx artists from around the Bay Area. At the reception, we will discuss SB 288, which would make it legal for Dreamers and other immigrants to run for and be appointed to positions as Democratic & Peace and Freedom Party county central committee members.
To attend, please register here or call my office at 415.557.1300
Date: Friday, October 11, 2019
Time: 5 p.m. - 7 p.m.
Location: 455 Golden Gate Avenue.
San Francisco, CA 94102
Pumpkin Carving Contest and Legislative Updates with Senator Scott Wiener
Please join me for a family Pumpkin Carving contest judged by local drag queens. Meet your neighbors, learn about the 2019-2020 legislative agenda, and ask questions. Food and drink will be provided.
To attend please RSVP by calling (415) 557-1300 or visiting bit.ly/wienerpumpkins
Date: Saturday, October 19, 2019
Time: 1 p.m. - 4 p.m.
Location: Noe Valley Courts
4320 24th St, San Francisco, CA 94114
Net Neutrality's Ultimate Champion Keeps on Fighting (CNet)
"Though he's only in his first term, 49-year-old Wiener is one of the most prolific members of the chamber, tackling hot-button issues as if reelection next year is the furthest thing from his mind. Whether it's restoring net neutrality in California, addressing the state's intractable housing shortage or contemplating regulation of the state's powerful technology industry or its workers, Wiener isn't afraid to set his razor-sharp gaze on complicated problems."
Why Can't California Solve Its Housing Crisis? (Rolling Stone)
"[Wiener] won a seat in the California state Senate in 2016, arriving in Sacramento like a time traveler with grim tidings from the future. 'I saw that other parts of California are headed to where San Francisco is,' he says. 'That San Francisco is five or 10 years ahead of other places - in a bad way. San Francisco went off the cliff first.' At the start of the legislative session this past January, the housing committee introduced a slate of bills focused on streamlining approvals for new construction, protecting renters, funding affordable housing, and, most controversially, reforming zoning laws. Wiener's top priority was SB50."
Trump and California See Same Homelessness Problem, but Not the Same Solutions (The New York Times)
"'Donald Trump is a slumlord who has spent his presidency pushing people into homelessness by taking away health care, food assistance and affordable housing funds,' said Scott Wiener, a Democratic state senator from San Francisco. 'He has no credibility on housing and homelessness.'"
CA State Senator on Homeless Problem: We 'Don't Need Advice' from Trump (MSNBC)
"California State Senator Scott Wiener joins Hallie Jackson to discuss the feud between California and President Trump over the state's homelessness problem. Wiener acknowledges the crisis, and says he'd 'love more resources from the federal government,' but rejects the President's intrusion into state politics."
Take Action: Complete Streets Bill Now on Governor Newsom's Desk (Streetsblog California)
"The Complete Streets for Active Living Bill, authored by Senator Scott Wiener, has passed the state legislature and is now on its way to Governor Gavin Newsom's desk for a signature. S.B. 127 would require Caltrans to consider bicycle and pedestrian safety improvements when it repairs or repaves state routes that serve as local streets."
California: Donated Cannabis May Get a Tax Break (Cannabis Wire)
"A bill on Governor Gavin Newsom's desk could make it more affordable for cannabis operators to donate cannabis to medical patients. Senate Bill 34 would remove state taxes imposed on such donations by the fine print in the law that legalized adult use cannabis three years ago..... The bill's author, Senator Scott Wiener said that not long after adult use legalization hit he began to hear stories about compassionate care programs shuttering in the Bay Area. 'But the more I learned about the issue, I learned it wasn't just people living with HIV,' he said, referencing the patients the state's medical cannabis program initially primarily served. 'It was veterans living with PTSD, and other people who don't have much money but need access to medical cannabis, and they were being priced out of the legal regulated market.'"
Emanuel 'Manny' Yekutiel, owner of Manny's
For years, political debates became increasingly polarized and confined to impersonal, online interaction. Manny saw that there was a demand for more person-to-person contact in politics and civic life. This demand skyrocketed after the 2016 presidential election - so he opened Manny's, a people-powered and community-focused meeting and learning place in the heart of San Francisco. It is a non-profit restaurant, bookshop, and civic event space; combined in one location. Manny's has hosted upwards of 300 events for activists, local community groups, Presidential candidates, and folks looking to get more involved all in an effort to provide an accessible space that promotes civic engagement and awareness.
Manny first made his way to San Francisco in 2010, working as a street canvasser for Equality California. As a canvasser he joined the fight for equal rights for the LGBTQ+ community and the campaign against Proposition 8. He later worked in the White House for President Obama's LGBT advisor and on the Presidential campaigns of Barack Obama and Hillary Clinton. He has worked in the Bay Area as a volunteer at Glide Memorial Church TGIJP (Transgender, Gender-Variant, Intersex Justice Project) and has helped non-profits and advocacy groups with their fundraising.
Senator Wiener stands in solidarity with climate activists of all age at the climate strike
Senator Wiener celebrates transit week with SF Transit Riders
Senator Wiener plants trees with friends of the urban forest
Senator Wiener and Supervisor Mandelman join Modesto residents protesting a "straight pride" parade
Senator Wiener celebrates Blackbird bar's ten year anniversary
Senator Wiener with his fall semester interns
Senator Wiener embraces Anna Navarro after awarding her the Ally Leadership Award at Equality California's annual Equality Awards
Senator Wiener celebrates Reverend Cecil Williams' 90th birthday
Senator Wiener grabs a bite at Tony's in North Beach with Mayor Breed and Tony
Senator Wiener rides Muni with friend and colleague, Assemblyman David Chiu