Dear Friend,
As we move into November, our neighbors affected by the devastating fires in Sonoma County and beyond are foremost in our minds. During this fire season, we are also thinking of the millions of people impacted by power outages across our state, which can be particularly devastating for vulnerable communities, including seniors and people with chronic health problems. I have already introduced legislation to stop PG&E from relying on sweeping, knee-jerk mass blackouts in the future, and to ensure that utilities are protecting their customers, not just their shareholders.
Last month brought the 2019 legislative year in Sacramento to a close. I'm delighted that Governor Newsom signed 10 pieces of legislation that I authored this year, which will make California fairer, safer, and healthier. These laws include providing better care for people in mental health crises and repealing unnecessary sentencing enhancements that fuel mass incarceration.
There is much more to do, and in 2020 I will continue to work to move legislation forward to address California's housing and homelessness crisises, improve our approach to mental health and addiction, protect marginalized communities, make our transportation system safer and more sustainable, and fight climate change.
Sincerely,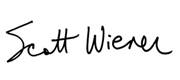 Scott Wiener
Senator
Restricting Future Bay Area Blackouts
Californians are rightly angry at PG&E. This company's persistent failure to properly maintain its infrastructure has caused catastrophic wildfires. To add insult to injury, PG&E is now engaging in mass blackouts, plunging millions of peoples' lives into chaos, with little warning or support from the company. There is widespread, legitimate suspicion that PG&E is unnecessarily shutting off power to large numbers of residents to limit its own liability. According to PG&E, we may have to suffer through these mass blackouts for another decade, which is completely unacceptable.
That's why I introduced Senate Bill 378, which puts in place reasonable, commonsense measures to ensure that utilities are pursuing planned blackouts prudently - using a scalpel and not a sledgehammer. The legislation requires PG&E and other utilities to compensate people and businesses for damages caused by planned blackouts, imposes hourly fees for planned blackouts, prohibits utilities from charging for service during blackouts, and bans utilities from lobbying against new ways of delivering power, including public power.
The bill is set for a hearing in January and I look forward to working to ensure its passage.
This year, Governor Newsom signed 10 of my bills into law, described below. (Since I took office three years ago, 36 bills I authored have been signed into law.)
SB 40- Strengthening Conservatorship Laws for People in Severe Mental Health and Addiction Crisis
Strengthens Senator Wiener's legislation creating a new conservatorship for severely mentally ill and addicted people on our streets who are dying and need help. SB 40 will help save lives by getting people the care they need.
AB 101 (passed through the Budget) Streamline Navigation Center Permitting
Streamlines the production of high-quality homeless shelters to address the number of homeless individuals and families who do not have reliable access to shelter. This legislation will make it easier and faster to implement navigation centers, by eliminating endless appeals and lawsuits.
SB 136- Reducing Mass Incarceration by Repealing Common One-Year Sentence Enhancement
Repeals a common one-year sentence enhancement added to each prior prison or felony jail term that an individual has served. SB 136 will help reduce mass incarceration in California.
SB 159- Increasing Access to HIV Prevention Medication
Authorizes pharmacists to furnish pre- and post- exposure prophylaxis (PrEP and PEP) without a physician prescription and also prohibits insurance companies from requiring prior authorizations in order to obtain PrEP coverage. PrEP and PEP are critical parts of our efforts to end new HIV infections.
SB 34- The Dennis Peron and Brownie Mary Compassionate Care Act
Exempts cannabis compassionate care programs from paying state commercial cannabis taxes when they are providing free medical cannabis to financially disadvantaged people living with serious health conditions. Due to an oversight in how Prop 64 was drafted, these not-for-profit donation programs, which have been serving low income medical cannabis patients for decades, are now being forced to pay taxes meant for businesses, which are forcing these charity programs to shut down since they have no revenue. SB 34 fixes this problem.
SB 142- Requiring Lactation Accommodation for Working Mothers
Ensures working mothers have access to lactation facilities in the workplace, and helps create more family friendly work environments. New mothers should not have to choose between returning to work and breastfeeding their kids.
SB 233- Improving Sex Worker Health and Safety
Prohibits the arrest of people involved in sex work when they come forward as a witness or victim of a specified violent and serious crime. SB 233 also provides that the possession of condoms may not be used as evidence to arrest someone for engaging in sex work. SB 233 ensures that sex workers feel safe reporting crimes and that they aren't deterred from carrying condoms due to fear of arrest.
SB 80 (passed through the Budget) Incentives for Low Income People to Save Money
Ensures more individuals are able to access income assistance through the CalWORKs program in order to move more children out of poverty and help families meet basic needs. The bill does so by repealing the so-called "asset test," which forces low income people to choose between income assistance and saving money in order to climb out of poverty.
SB 30- Expanding Domestic Partnerships to Opposite Sex Couples
Ends discrimination against straight people by expanding domestic partnerships beyond same-sex couples to all couples. Previously only same-sex couples and opposite-sex couples age 62 and older could register as domestic partners.
SB 271- Benefits for Motion Picture and TV Production Workers
Increases access to unemployment insurance, state disability insurance, and paid family leave benefits for motion picture and TV production workers who are traveling to other states for work but are still California residents.
Gavin Newsom Signs Measures Giving 'Second Chance' to Ex-Offenders (SF Chronicle)
"Gov. Gavin Newsom signed several bills Tuesday that lawmakers say will ensure California's justice system treats suspects and convicted people fairly.... Here are some of the most significant new laws that take effect Jan. 1: Sentence enhancement rules: SB136 by state Sen. Scott Wiener, D-San Francisco, changes rules that require convicted felons to serve additional time for each prior felony prison term...."
California Makes H.I.V.-Prevention Drugs Available Without a Prescription (NY Times)
"California will become the first state in the country to allow pharmacies to dispense H.I.V.-prevention drugs over the counter .... The bill, S.B. 159, was sponsored by State Senator Scott Wiener of San Francisco and Assemblyman Todd Gloria of San Diego. Mr. Wiener, a former member of the San Francisco Board of Supervisors who represented Harvey Milk's old district, declared in 2014 that he was taking Truvada daily. At the time, he said he hoped his announcement would encourage more gay men to consider taking the drug. In a phone interview on Tuesday, he said.... "There are big swaths of California where it is hard to get a doctor's appointment, and sometimes people have to wait months.... Giving people the option of going into their neighborhood pharmacy and getting a 60-day supply to start on PrEP will make a big difference...."
HIV Prevention Drugs Will Be Available Without a Prescription in California (LA Times)
"California will expand access to HIV prevention drugs by allowing pharmacies to offer the medications without a prescription under a law signed by Gov. Gavin Newsom on Monday. Senate Bill 159 by Sen. Scott Wiener (D-San Francisco) and Assemblyman Todd Gloria (D-San Diego) allows pharmacists to dispense pre-exposure prophylaxis, known as PrEP, and post-exposure prophylaxis, known as PEP, in a way similar to birth control and emergency contraceptives. The law will also bar insurance companies from requiring prior authorization before the HIV prevention drugs are provided...."
California Launches First Mental Health Line Ahead of World Mental Health Day (ABC 10)
"California Monday launched the state's first ever mental health line. The free service will offer non-emergency emotional support and referrals to California residents via telephone or instant messaging.... "Too many Californians are struggling with mental health and emotional well-being challenges. Peer-to-peer support is a proven way of helping people stay healthy and get the help they need. The California Peer-Run Warm Line is an important resource for so many people, and I'm thrilled we were able to get it funded," said State Senator Scott Wiener (D-San Francisco.) The line was made possible through the state budget allocation of $10.8 million, which will be spread over three years...."
SF Could Compel More Severely Mentally Ill People into Treatment Under Law (SF Chronicle)
San Francisco could compel more severely mentally ill people into treatment under a bill signed by Gov. Gavin Newsom Wednesday. "It's neither compassionate nor progressive to allow seriously addicted and mentally ill people to continue to die on our streets," Senator Wiener, the bill's author, said in a statement. "I thank the governor for signing this legislation, which will save lives." Mayor Breed said of the legislation, "We can't compel anyone to do something if they don't want to do it. And in most cases, for someone who is mentally ill, they are not accepting what we are offering - which means the conservatorship legislation is going to be very helpful for a small group of those people."
Safe Injection Site Not Against Federal Law, Judge Says (Bay Area Reporter)
A federal judge struck down the Trump administration's latest attempt to block a supervised injection facility in Philadelphia. Philadelphia and San Francisco are among several cities vying to open the first supervised consumption site.... Assembly Bill 362, cosponsored by Wiener and now a two year bill, would allow San Francisco to establish a pilot overdose prevention program. Jerry Brown vetoed similar legislation in 2018, but Newsom had indicated he would be open to signing the bill. Wiener said, "Despite the Trump administration's aggressive opposition, Philadelphia is opening a safe injection site to combat the addiction epidemic gripping our nation. We need to do the same in San Francisco and we need state legislation to authorize it. Safe injection sites have a strong track record reducing addiction, overdoses, crime, and syringe litter. We will continue to work to get this done for our city."
SF to Launch Expanded Conservatorship Program (SF Examiner)
"The City will begin implementing state law that allows San Francisco to force people into treatment if they are suffering from mental health and substance use issues, officials said Monday. The City will start asking the courts to conserve those who are now eligible, Mayor London Breed announced Monday at a 100-unit supportive housing site in the South of Market area. Breed was joined by State Sen. Scott Wiener, who authored the state bills, and Supervisor Rafael Mandelman, who helped pass the local law to participate in the program...."
California Politicians Ripping PG&E: 'The Wild West Doesn't Work' (SF Chronicle)
"State Sen. Scott Wiener, D-San Francisco, who has proposed a bill to restrict shut-offs, said the state needs clear standards for when utilities can flip the switch. 'The Wild West doesn't work,' he tweeted. 'I'm not opposed to planned blackouts, if they're done in a targeted way,' Wiener told The Chronicle. 'But we need to make sure that, going forward, massive blackouts don't become a normal or regular occurrence.'"
California Bill to Boost Housing in Suburbs Gets New Life. Newsom May Back It (SF Chronicle)
"When state Sen. Scott Wiener revives his contentious bid to allow more small to medium-size apartment buildings around public transit and in wealthy suburbs, the San Francisco Democrat could have some hefty additional muscle behind his effort. Gov. Gavin Newsom and Senate President Pro Tem Toni Atkins of San Diego have both affirmed in recent weeks their commitment to advancing some form of SB50 next year."
Trump Has No Clue About Homelessness. This California Lawmaker Actually Does. (Mother Jones)
"The absurdity of Trump's attacks, though, shouldn't paper over the very real housing crisis in California. State Sen. Scott Wiener, who represents San Francisco-where the median price for a one-bedroom rental is about $3,700 a month-has seen this crisis up close and has been a vocal affordable housing proponent since he served on the San Francisco Board of Supervisors."
SF Could Compel More Severely Mentally Ill People into Treatment Under Law (SF Chronicle)
San Francisco could compel more severely mentally ill people into treatment under a bill signed by Gov. Gavin Newsom Wednesday. The state law, written by state Sen. Scott Wiener, D-San Francisco, will immediately allow the city to expand conservatorship, which is court-ordered mental health treatment. The expansion will apply to those who are severely mentally ill, addicted to drugs and have been taken to an emergency crisis unit, known as a 5150 hold, at least eight times in a year.
State Senator Calls For Clear Standards In Future PG&E Shutoffs (CBS)
"Amid the unprecedented power shutoffs impacting Pacific Gas & Electric Co. customers in many parts of California, a Bay Area lawmaker is seeking to restrict such outages.... The proposal is by State Sen. Scott Wiener (D-San Francisco), who says the state needs clear standards for when utilities can flip the switch. Wiener said his bill would not completely prevent a power shutoff. 'I understand why PG&E at times will need to shut down the power....I'm not saying they should never shut down power anywhere, there are times as a matter of public safety, to avoid wildfires, where they may need to do it. But they need to make it as focused as possible."
William "Bill" J. Barnickel, Retired USAFR
Duty. Honor. Country. These are the words that Bill Barnickel continues to live by after 29 years of military service. He retired from the United States Air Force in January 2000 and continues his steadfast love and support for veterans to this day.
Since he was appointed to the San Francisco Veterans Affairs Commission in 2016, Bill has organized 3 job fairs at City College of San Francisco and helped veterans to be placed in almost 500 full and part-time jobs. In collaboration with the Institute on Aging, the CA Dept. of Justice, the CA Dept. of Insurance, San Francisco Adult Protective Services, and various social services agencies, Bill helped start the San Francisco Veterans Benefits Protection Project to bring awareness to the scammers and poachers who were taking advantage of senior veteran elders in care/residential homes and to prosecute them. These efforts earned a 2017 Aging Innovations & Achievement Award National Award for the program.
Bill was appointed by his fellow Commissioners to be a liaison to the Veterans Service Office where he helped 225 vets off the streets and access services. He continues to provide presentations for veterans on the SF Police Department and SF Fire Department to fully understand their benefits.
In addition to all of his work for veterans, Bill is also President of the Outer Sunset Merchants and Professionals Association. As recognition of all his accomplishments, I'm proud to name him to be Veteran of the Year for the 11th Senate District. Congratulations Bill!
Kids and their families joined Senator Wiener at his annual Pumpkin Carving Contest in Noe Valley.
Senator Wiener joins Fr. Edward Reese, Principal Michelle Nevin Levine, and Niall McCarthy at the Fr. Sauer Academy.
Senator Wiener was joined by Bay Area Latinx artists a reception in his office, launching the 'We Belong- Pertenecemos' art show.
Senator Wiener joined Supervisor Shamann Walton, local community leaders, and young soccer
Senator Wiener celebrating the fifth anniversary of the Visitacion Valley Neighborhood Association.
Senator Wiener riding in the Italian Heritage Day Parade in North Beach.
Senator Wiener meets with students at Spanish Infusion School about how to get kids involved in politics.
Senator Wiener delivers shoes to members of the Boys & Girls Clubs of SF with 49ers player Dante Pettis and Assembly Member David Chiu.
Senator Wiener met with members of the Youth Advisory Board at Larkin Street Youth Services.