Dear Friend,
In my office, December is not only a time for celebrating the holidays with friends and family, It's also when we gear up for the 2020 legislative session. That is why I'm spending this month with neighbors and community partners. As I prepare to introduce new bills, I want to hear your ideas for how we can make our state safer and fairer.
So far, spending time back home has been invigorating. I was proud to help celebrate San Francisco's first transgender awareness month. I joined Mayor Breed in raising the transgender pride flag over city hall and spent Transgender Day of Remembrance with trans incarcerated people at San Quentin. Next year, I'll be working to pass SB 132 to protect the safety of trans people in prison.
I've also spent the past month continuing to advocate for the new housing California desperately needs. The results are in: two bills I authored - SB 828 and SB 35 - have already streamlined cities' housing approval processes and helped cities increase their housing targets, then stick to those goals. In 2020 I will continue to fight to end California's housing crisis.
I am excited for what the New Year will bring. I hope you'll be in touch with my office throughout 2020, as we work to protect the vibrant diversity and progressive ideals that make California home.
Sincerely,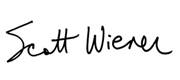 Scott Wiener
Senator

I am excited to announce some of my 2020 legislative goals. Next year, we are authoring bills that give intersex people greater control over their bodies, allow cities to extend nightlife to 3AM, enable Dreamers to run for party office in California, end restrictive zoning in job and transit rich areas, and protect the health of our oceans.
I am also working to address the irresponsibility and recklessness we have seen from PG&E throughout the fall. The Senate recently held oversight hearings for PG&E, where I called for PG&E to become a public utility. PG&E has used a sledgehammer - not a scalpel - in implementing planned blackouts earlier this fall. They have focused not on protecting Californians but on boosting their bottom-line and reducing their potential liability. The current investor-owned model just doesn't work. That's why I authored SB 378, which holds PG&E to account and limits their overly broad blackouts.
I am proud of the legislation we are working on, and in the coming months I'll be introducing additional bills. If you are interested in learning more about the specifics of legislation I will introduce in 2020, please visit my website.

Upcoming Events And Opportunities
SF LGBT Center's Host Homes Program
The SF LGBT Center is putting out a call for volunteers to participate in its pilot Host Homes program, an innovative, community response to youth homelessness.
Host Homes pairs LGBTQ+ young adults (18-24) with temporary San Francisco community hosts who have a spare bedroom. The young people receive case management services to help them secure stable housing, and Host Homes staff work diligently to ensure that matches between hosts and guests are made based on aligned values, interests, and lifestyles. The goal is to house 10-15 youth in San Francisco for 3-12 months while providing case management that leads to stable housing.
If you're interested in becoming a host with the Host Homes program, please click here to learn more and here to apply to host.
United Playaz Gun Buy-back
On average, 100 Americans are killed by guns each day. 1/3 of homes with children have guns - many left unlocked and loaded.
Help end the pollution and be the solution to gun violence. No questions asked!
Handguns = $100, Assault Weapons = $200
WHEN: Saturday, December 14th, 8 AM - 12 PM
WHERE: United Playaz. 1038 Howard St, San Francisco
Rainbow World Fund World Tree of Hope
Do you have a wish for the world? Give your wish wings and help decorate the Rainbow World Fund World Tree of Hope, an annual holiday project to inspire hope, love, and humanitarian action.
This December thousands of origami cranes inscribed with wishes will adorn our tree at Grace Cathedral in San Francisco. The tree is a gift from the LGBTQ community and reflects our philosophy of building bridges to connect our human family.
Submit your wish here, and it will be placed on the tree with thousands of wishes from around the world:
The tree lighting is Tuesday, December 10 from 6:30-8:30pm at Grace Cathedral (1100 California Street, San Francisco).
Mattie Scott, Executive Director - Healing for Our Families and Our Nation
Mattie Scott is a veteran gun violence prevention activist with 20 years of experience in community advocacy. We are recognizing her as our December community leader to honor her personal strength, her ability to inspire others to take action, and her longstanding devotion to her neighborhood and San Francisco at large. Her work has made our city more equitable and secure.
On July 17, 1996, Mattie Scott's life changed forever when her youngest son, George C. Scott, was killed in her Western Addition African American community. He was 24 and a father to two young sons. George was the 53rd of 96 homicides that year in San Francisco. Motivated by the lack of care, concern, and services in response to her son's death, Mattie became a violence prevention and intervention activist. Her mission is to save lives and bring attention to this major health disparity - both locally and nationally.
Today, Mattie serves as Executive Director of Healing for Our Families and Nations and is the San Francisco Chapter Leader of Mothers in Charge. She served as the President of the San Francisco Brady Campaign for 14 years. Mattie has led 13 Mother's Day Rallies in San Francisco and helped plan the Mothers-In-Charge March on Washington DC and Philadelphia. She also ran four Californians for Safety & Justice Annual Survivor's Conferences in Sacramento, and worked on the 20-year Million Man March, the 2017 Women's March, and the New Town rallies.
Mattie's service to our community is both deep and broad. Because of Mattie's professional leadership skills and determination to end senseless violence, she was appointed to the SFPD African American Community Relations Board. She is a member of the SF NAACP and serves on the Westside Community Mental Health Advisor Board, the African American Healing Alliance, the Black to the Future Team, the SF District Attorney BCJI Partners Board, the African American Art & Cultural Center, and Freedom West Housing Cooperative for affordable housing. She has also mentored African American Young Women and provided services to juvenile offenders and other at-risk youth living in housing developments in District 10 and beyond.
California Sen. Scott Wiener to Propose Turning PG&E into Public Utility (SF Chronicle)
"State Sen. Scott Wiener says efforts to restructure Pacific Gas and Electric Co. must include an option to turn the embattled, investor-owned utility into a public entity."
California Lawmakers Lambaste PG&E During Hearing on Mass Blackouts (SF Chronicle)
"Public anger at Pacific Gas and Electric Co. swept over the state Capitol Monday as lawmakers held their first oversight hearing on the mass blackouts the utility undertook in October... 'We thought that PG&E would use a scalpel in implementing these planned blackouts,' said state Sen. Scott Wiener, D-San Francisco. 'Instead PG&E has chosen to use a sledgehammer and then turn around and essentially tell the public, "Sorry, suck it up, we'll fix it in 10 years."'"
California Bill Would Ban Early Surgery to 'Fix' Intersex Children (SF Chronicle)
"David Cameron Strachan never knew he had an extra female X chromosome until a doctor told him at age 29... Now 72 and a longtime advocate for others who are intersex - people whose sex anatomy doesn't fit typical definitions of female or male - Strachan backs a bill by Democratic state Sen. Scott Wiener of San Francisco that would make California the first state to outlaw operations on young children to 'normalize' their genitalia."
What You Need to Know About Trans Awareness Month (Out)
"San Francisco marked the beginning of Transgender Awareness Month by lighting up City Hall in the trans flag colors and raising the trans flag over the building...Senator Wiener also read the names of some of the transgender people who were slain this year. At least 22 transgender or gender non-conforming people have been killed this year..."
Scott Wiener Talks Major Housing, Property Tax Issues for 2020 (San Jose Spotlight)
"Three years into his role serving in the California State Senate, Scott Wiener has made a major name for himself, creating excited fans and vocal critics of his highly controversial housing bills aimed at spurring more development across the Golden State. But sometimes, the towering 49-year-old senator admits, he misses being in the middle of the local action, having cut his teeth in politics on the San Francisco County Board of Supervisors, and in county and regional transportation leadership roles."
As 2020 Approaches, Where Does Cannabis Go Next? (SF Weekly)
"For State Senator Scott Wiener - primary author of SB 34 and representative of California's 11th district, which includes San Francisco - taxes and access are the next urgent topics on the docket."
Watch a Very Tall Sen. Scott Wiener Ride a Very Small Zamboni at San Francisco's Civic Center Rink (SF Gate)
"California State Senator Scott Wiener took a break from his usual political duties on Thursday to clear the ice on a mini Zamboni-like ice resurfacer at San Francisco's Civic Center rink. Sen. Wiener posted a video of his whirl around the ice and the footage of a very tall man on a very small machine is making many on Twitter smile."
Senator Wiener joins the North Beach Neighbors community meeting to discuss housing and homelessness
Senator Wiener rallies to save beloved North Beach Caffe Sapore
Senator Wiener with LGBT veterans at the Veterans Day Parade
Senator Wiener joins constituents to support the Walk to End Alzheimer's
Senator Wiener joins colleagues to discuss housing and California's future at the California Economic Summit
Senator Wiener speaks in city hall in honor of San Francisco's first Transgender Awareness Month