Dear Friend,
Happy New Year! This past year we fought for San Francisco values in the state legislature. I passed 7 bills into law – including legislation to reduce mass incarceration, increase access to HIV-prevention drugs, and care for those suffering from mental illness. I hosted town halls and art shows, and got to meet thousands of my constituents. And I joined my colleagues to advocate for vital reforms – including co-authoring David Chiu's pro-tenant rent cap legislation.
In 2020, I am continuing to advocate for our progressive values. We fought hard for SB 50, our bill to address California's housing crisis (and though it ultimately didn't pass, I'm cooking up new housing legislation right now). We are holding PG&E accountable and working to turn it into a publicly-owned utility. And we are rolling out dozens of new bills this month and next – including SB 855, which will institute groundbreaking new requirements for mental health coverage.
In San Francisco, we know how to lead – setting an example of inclusion and tenacity not only for California but also for the country. As we head into a Presidential election year, join me in taking our country back – one piece of bold legislation at a time.
Sincerely,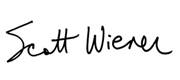 Scott Wiener
Senator

This month, my office…
Re-launched SB 50

To learn more about Senator Wiener's work to pass groundbreaking housing legislation, click here.

Introduced new legislation

Senator Wiener has 10 two-year bills he is continuing to work on and has introduced 5 new bills – with more to come. Find our 2020 legislation here.

Sought a pardon for Bayard Rustin

Senator Wiener and Assemblymember Shirley Weber announced that they would be seeking a posthumous pardon for Bayard Rustin, civil rights leader and LGBTQ icon. Learn more about their quest for a pardon here.
By the Numbers
For our full 2019 timeline, click here…
Renato Talhadas

AGUILAS – El Ambiente

Click here to learn more about Renato and AGUILAS' work!
The 2020 Census and the LGBTQ+ Community

Friday, Jan 31, 6:30 PM

The Commonwealth Club

Daly City Town Hall

Saturday, March 28th

Location TBD

Stay tuned for details!