Landmark Transportation Funding Deal: We Fought For And Got More Public Transit Funding

Public transportation money nearly triples from original funding plan. We worked hard to make that happen.
As your State Senator, one of my highest priorities is improved investment in public transportation. I have been fighting hard to increase public transit funding in the massive transportation funding measure that is moving through the Legislature, and we have nearly tripled what was originally proposed for transit. Particularly as President Trump and Republicans in Congress threaten to defund Caltrain electrification and to ax other transit projects, we must work hard to increase public transportation funding at both the state and local levels.
Last week, I joined Governor Jerry Brown, Senate President Kevin De Leon, Assembly Speaker Anthony Rendon, and many of my colleagues to announce a landmark transportation funding package. The proposal generates $52 billion over 10 years for roads and transit. Most importantly it nearly triples the amount of guaranteed funding for public transportation compared to what had been originally proposed. This $800 million a year of guaranteed funding for public transportation is a win for those of us who intensely advocated for the need for increased transit funding. In addition, public transportation projects are eligible for an additional $250 million a year in competitive grant funding, which could push investments over $1 billion a year. I'm happy to support this new deal, as I have been vocal about increasing the bill's support for public transportation. Here are my remarks in committee about the need for more transit funding and my statement about the deal announced last week.
My Other Transportation Work
In addition to securing more funding for public transportation, I'm proposing several reform measures to make it easier to invest in our systems and to improve safety: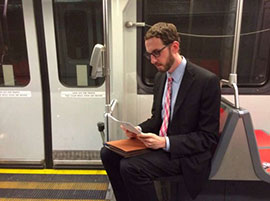 Scott rides Muni regularly and has done so for the past 20 years.
Senate Constitutional Amendment 6 - Lowering the Voting Threshold for Local Transportation Measures
No matter what happens with efforts to generate more transportation funding at the state level, local governments need better tools to fund transportation locally. That's why I introduced Senate Constitutional Amendment 6, which, if enacted by the voters, will lower the voting threshold for transportation funding measures from 2/3 to 55%. 55% is the same threshold that we use for school funding measures, and as with schools, we should be removing barriers that prevent local efforts to improve our transportation systems.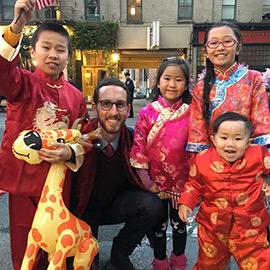 Scott at the Chinese New Year Parade

Senate Bill 760 - Improving Safety on our Streets

State-owned highways that run through local communities (such as Van Ness Avenue, Lombard Street, and 19th Avenue) should be designed for safe use by everyone, including pedestrians, cyclists, and transit riders. However, when Caltrans, the state agency in charge of these roads, makes improvements to these streets, the agency doesn't prioritize these safety needs. To make these streets safer, I introduced SB 760, which will force the state to do better. I'm proud to partner with transportation and public health advocates on this bill, including the California Bicycle Coalition, the Safe Routes to School National Partnership, California Walks, and the American Heart Association/American Stroke Association.

More Housing Now: My Housing Reform Bill

Our lack of adequate housing continues to present an existential crisis for the Bay Area and many parts of California. That is why the first bill I introduced in the State Senate - Senate Bill 35 - makes it easier to create housing for people of all income levels and to ensure that all communities, not just some, create housing for our growing population.

In San Francisco and through many parts of our state, people simply can't afford housing. Evictions are up, people can't move when they need to, our homeless population is growing, and families leave because they can't raise a growing family in a tiny apartment. We need more housing in our state for people of all income levels, especially with Trump's proposed gutting of federal affordable housing support. Our housing crisis has enormous human impacts. It also harms our economy and threatens our environment. If we want to meet our climate change goals, we need more housing near where people work, instead of forcing people into longer and longer commutes.

My housing bill, SB 35, reforms how we create housing in California. The bill, for the first time, requires local communities to build enough housing for all income levels. Currently, the state assigns housing goals to all cities and towns statewide. However, communities can blow off these goals with no ramifications. SB 35 provides that when communities don't meet their goals, a streamlined housing approval process kicks in, making it easier to approve housing at various income levels.

SB 35 recently passed out of its first committee, the Transportation and Housing Committee, and it is gaining strong support from affordable housing organizations, business groups, and smart growth advocates. The Sacramento Bee published an editorial in favor of the bill, stating "Sen. Scott Wiener, a freshman Democrat from San Francisco, is taking up the worthy cause of helping to bring more affordable housing to California's urban areas, including his own."

We can no longer turn a blind eye to obstruction of new housing in California. We need more housing for people of all income levels, and I'm committed to being part of the solution.

I'm also co-authoring several bills to generate more funding for affordable housing and to reform California's housing process in other ways. This huge issue will require a significant and multi-pronged group effort to improve the situation in a long-term and sustainable way.

These are just a few of the bills I'm working on now. To see more about my work, you can visit my website here, and find a list of all of the legislation I have proposed, as well as updates from my office and a way to contact my office if you need assistance with anything. I look forward to continuing to serve you.

Thank you for allowing me the honor to serve our community.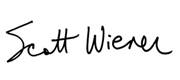 Scott Wiener
Senator